Dear %%$first%%,
May 23 is Lucky Penny Day. Find a penny, pick it up, and all the day you'll have good luck! But soon there will be no more luck to be found. After 137 years in circulation, the penny has been discontinued (because it costs 1.6¢ to make every penny!).
So we did the math, and figured out how to keep the luck in Canada. We've converted luck into published thoughts and we're offering them to you: Get a 1-year subscription to Geist for just $19.99!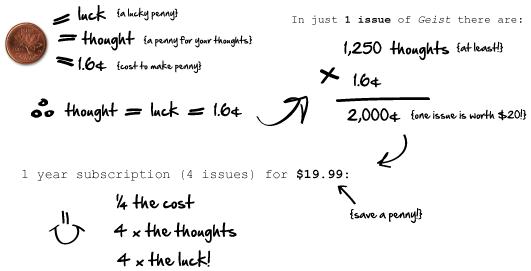 Subscribe now for a year's worth of thoughts, luck, non-fiction, poetry, comix, maps and little-known facts of interest. Geist: worth more than its weight in copper.


Or call 604-681-9161.

Hurry, offer expires May 30, 2013!
---
"If it's a penny for your thoughts and you put in your two cents worth,
then someone, somewhere is making a penny."

—Steven Wright




Geist, 210 - 111 West Hastings Street, Vancouver BC V6B 1H4.

Geist respects subscriber privacy and will never share your email address.