Get Geist 100 FREE when you subscribe for 6 issues at $20!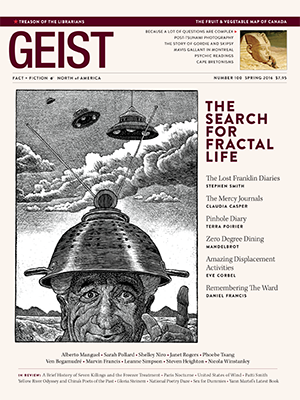 Geist 100 features the weird and wonderful from the world of words, art and photography:
Sir John's Lost Diaries by Stephen Smith
Alaska Highway photography
Cape Bretonisms
Mandelbrot and the Kathmandu Café in multiple dimensions
The amazing displacement activities of writers
Pinhole photography diary project
Michał Kozłowski searches for fractal life and fractal literature
Suzanne Buffam's First World Problems from A to Z
The Unparalleled Imagination of a Bush Camp Nickname by Marvin Francis
The announcement of a brand new Geist writing contest
AND:
Off-beat fiction + non-fiction, comix, poetry, essays and reviews from the usual and unusual suspects.
Subscribe now for 6 issues at $20 and get Geist 100 free!



Click here for orders outside of Canada.
You can also call 1-888-434-7834 to order over the phone, or email subs@geist.com with any questions.